Infant oral health is one of the foundations upon which preventive education and dental care must be built to enhance the opportunity for a lifetime free from preventable oral disease.
42% of children 2 to 11 have had dental caries in their primary teeth.
23% of children 2 to 11 have untreated dental caries.
Dental caries is five times more common than asthma and seven times more common than hay fever in children.
Early childhood caries (ECC) and the more severe form of ECC can be particularly virulent forms of caries, beginning soon after tooth eruption, developing on smooth surfaces, progressing rapidly, and having a lasting detrimental impact on the dentition
Caries in primary teeth can affect children's growth, result in significant pain and potentially life-threatening infection, and diminish overall quality of life.
Preventive measures
Establishment of dental home A dental home is defined as an ongoing, comprehensive relationship between the dentist and the patient (and parents), inclusive of all aspects of oral health delivered in a continuously accessible, coordinated, and family-centered way.
Teething The appearance of the first tooth is most eagerly awaited, significant developmental landmarks by most parents. Teething Latin term "Dentitio difficili" was coined, literally meaning difficult dentition.
Signs and symptoms of teething intermittent localized discomfort in the area of erupting primary teeth
inflammation of the mucous membrane overlying the tooth,
pain
general irritability/malaise
disturbed sleep
facial flushing/circumoral rash
drooling/sialorrhea
gum rubbing/biting/sucking
bowel upset (ranging from constipation to loose stools and diarrhea)
loss of appetite/alteration in volume of fluid intake and ear rubbing on the same side as the erupting tooth.
Treatment
Teething rings (chilled)
Hard sugar-free teething rusks/bread-sticks/oven-hardened bread
Cucumber peeled
Pacifier (even frozen)
Frozen items (anything from ice cubes to frozen bagels, frozen banana, sliced fruits, vegetables)
Rub gums with clean finger, cool spoon, wet gauze
Reassurance
Analgesics/antipyretics
Topical anesthetics.
Oral hygiene
Oral hygiene measures should be implemented no later than the time of eruption of the first primary tooth.
leansing the infant's teeth as soon as they erupt with a soft toothbrush will help reduce bacterial colonization
Toothbrushing should be performed for children by a parent twice daily,
Diet counseling during infant oral health visit
Infants should be exclusively breastfed during first 6 months of life followed by addition of iron-enriched solid food between 6 and 12 months of age.
Parents should be counseled about no to put their children to sleep with the bottle.
Infants older than 6 months and with exposure to < 0.3 ppm fluoride in their drinking water need dietary fluoride supplement of 0.25 mg fluoride per day.
Parents should be counseled to reduce their child sugar consumption frequency.
Fluoride
In children with moderate or high caries risk under the age of 2, a "smear" of fluoridated toothpaste should be used.
In all children aged 2–5 years, a "pea-size" amount should be used. Professionally applied topical fluoride, such as fluoride varnish, should be considered for children at risk for caries.

Gum disease is one of the most prevalent disease.
The success of treatment is generally measured on its ability to reduce or eliminate inflammation; decrease pocket depth; and stop or slow attachment and bone loss. To better understand the treatment options, you should understand these three goals of treatment:
Dental and medical tourism is a hot topic ever. The lack of insurance coverage and the high cost make it difficult to get the treatment needed. Not taking care of the teeth at the initial stage can affect the internal organs and internal system.KIMS,Hyderabad provides the complete care of your dental health and general health, providing HOLISTIC DENTISTRY. >
Though Hyderabad being one of the metropolitan city provides high quality services at moderate cost compared to other metro cities in India makes a top destination for dental tourisim.This ancient city which has survived civilisations offers gift to travellers across the globe.

Ozone Theraphy.
WHAT IS OZONE THERAPY IN DENTISTRY ?
Antimicrobial effect of ozone is the most studied. Oxygen/ozone therapy in dentistry contains a multiplicity of protocols to deal with dental infection.
MODE OF ADMINISTRATION
Three fundamental forms of application to oral tissue are applied — (1) ozonated water, (2) ozonated olive oil, and (3) oxygen/ozone gas.
Dental caries
Root canal theraphy
Hypersensitive teeth
Enhanced esthetic tooth bleaching
Reccurent aphthous stomatitis
3rd molar surgery
oral lichen planus
Tissue regeneration
pain control
temperojoint disorder treatment
Gum recession treatment

Contraindication :
Anemia
pregnancy
autoimmune disorder
Emyasthenia
myasthenia
hemorrhage
ozone allergy
MI

Holistic dentistry emphasizes approach to dental care which considers the patient's dental health in the context of their entire physical as well as emotional health. One basic premise of holistic dentistry is that there's a crucial relationship between the health of your own mouth and health of your entire body.

Holistic dentistry is said to be an emerging new field of probiotic dental medicine. Holistic dentist uses physiologic and electronic methods to locate areas of chronic disease that are difficult to locate by current standard methods.

Holistic dentistry, currently referred as "BIOLOGICAL" OR "BIOCOMPATIBLE" DENTISTRY Diagrammatic illustration of spread of dental infection to various parts of body along with their effects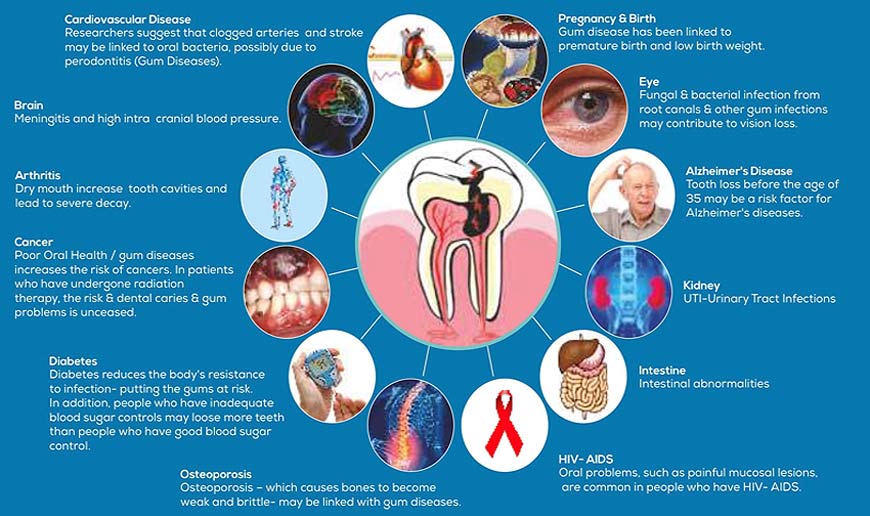 WHAT HOLISTIC DENTISTRY REALLY DOES……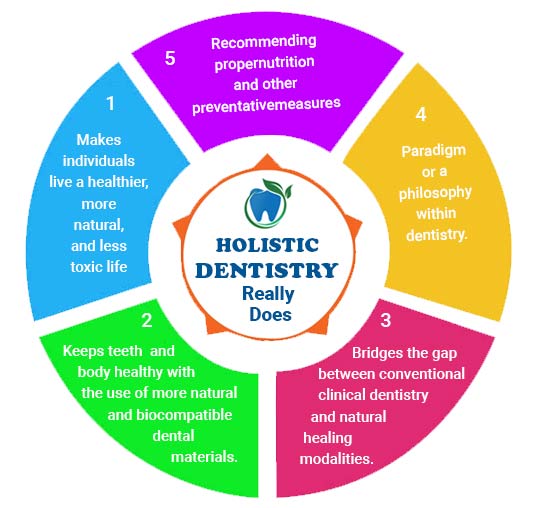 Holistic dentistry: Treats systems, not symptoms. Focusing on the underlying problems that are causing symptoms in your mouth, attempting to eliminate those problems and prevent symptoms from occurring in first place. Ensures your dental care does not have any adverse effect on your whole body health and well being.
"Oral health is overall health…."
It may seem odd sometimes that your dentist requires x-rays of your teeth to be taken often though most the dental concerns that seem superficial . Yet there are several issues that your dentist cannot see without the use of x-rays
Dental X-Rays are an integral part of diagnosing and providing treatment. X-rays provide dentists with insight into the structure and layout of a patient's teeth, allowing them to provide the best possible care. So lets discuss the two main important dental x-rays that playa crucial role in devicing your treatment plan, the OPG or Orthopantomogram and the CBCT or Cone beam CT.

Timing is everything, especially when it comes to a child's orthodontic treatment, the earlier the child's dental issues are addressed, the time spent on orthodontic treatment later on in life should be reduced. There are a lot of issues that can be corrected in your child's younger years by early intervention, this is known as interceptive orthodontics. Interceptive (Early) orthodontics is the treatment that takes place before braces usually when a child is 8-10 years old. It is the stage to identify abnormalities earlier in the children when their teeth and jaws are easier to manipulate.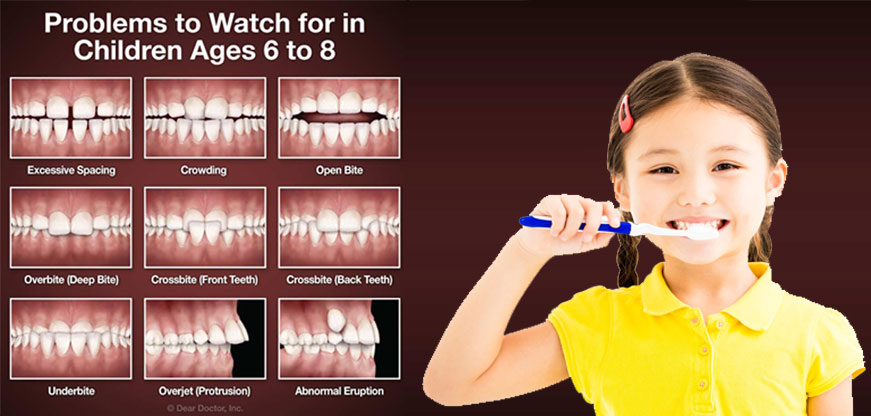 What are the treatments required?
Oral habits elimination,
Use of appliances,
Serial extraction,
Space regaining,
Correction of anterior and posterior cross bites,
Removal of soft or hard tissue impediments to path of eruption,
Resolution of crowding,
Interception of developing skeletal malocclusion.
If the child shows the following signs, then the child is in need of an
Loss of baby teeth before the age of 5 or after the age of 13
Difficulty in chewing or biting
Snores or breaths through the mouth
Sucking a thumb or finger after the age of five
Protruding front or bottom teeth
Suffers from a speech impediment
If the jaw shifts when opening or closing the mouth
If the teeth are not aligned
Benefitsearly orthodontic treatment:
Making space to alleviate severe crowding
Making sufficient room for the permanent teeth to erupt
Decreasing the duration of orthodontic treatment in the teenage years or adulthood
Boosting self –esteem and confidence
Stoppage of habits like thumb sucking and tongue thrusting before they cause damage
Giving them the gift of a beautiful smile.

WHAT DO I CHOOSE????
A missing tooth can change the appearance of your smile, sometimes the value of your teeth isn't realized until they are lost and unfortunately, teeth do not last forever. Even the loss of a single tooth can have a negative impact on your oral health and confidence. A missing tooth can affect your speech, ability to chew, and integration of your jaw bone. Luckily, there are a number of options for replacing the missing tooth, that you can choose from which include Dental implants, Denture and Dental bridges. So lets get into the pros and cons of each one these options today.