The importance of regular maintenance visits
Periodontal disease is a chronic condition that can never be cured, only controlled. Control of periodontal disease depends upon good, effective, and daily homecare, as well as regular profession care. Once treatment has been completed, a recommended schedule for regular cleanings (usually every three to four months) will be established. Often times these visits are alternated between the general dentist's office and the periodontal office. Innumerable studies have documented the importance of frequent and regular maintenance visits if you want to maintain your periodontal health. Protect your investment by scheduling and keeping regular periodontal maintenance visits.
The following factors can make gum disease worse by decreasing your ability to fight off infections or by decreasing the blood flow to the periodontal tissues, and by irritating your gums. Even if only one of these factors exist, it is a sign you need to be more committed to taking care of your teeth and gums. Implants can be considered to replace a single tooth. Often when the teeth on either side of the space are in good health, an implant may be the most conservative means of replacing the missing teeth because the adjacent teeth do not have to be reduced.
Tobacco use (smoking or chewing)
A poor diet
Pregnancy or oral contraceptives
Systemic diseases such as Diabetes or Aids
Medications such as steroids or chemotherapy
Stress and anxiety
Oral prophylaxis

Oral prophylaxis has gained tremendous popularity in recent years due to the introduction of ultrasonic scaling instruments and other high-tech devices. This is a procedure in which bacterial plaque and tartar is removed from the surface of the teeth with the help of scaling and polishing. It is not the same as teeth whitening or coronal polishing because it is mainly performed to prevent decay and other oral complications rather than for aesthetic reasons; however, it does satisfy the patient greatly. Your dentist will be able to tell you whether you are a candidate for oral prophylaxis or not depending on the severity of stains on your teeth.Because it involves the use of complex and expensive equipment, this procedure is quite costly. Furthermore, it takes about an hour to completely remove the stains from the teeth. Nowadays dentists use automatic scalers which do not cause any pain at all and are also quite easy to use. Moreover, these types of devices effectively remove all stains without any trouble. They are also known as ultrasonic scalers and are of two types: magnetostrictive system and piezoelectric system. The first system generates a lot of heat, while the second one does its job without producing any heat.Although one must learn to brush and floss their teeth properly, oral prophylaxis can be considered if you have severely stained teeth due to excessive use of tea, tobacco products, coffee or wine. However, dentists strongly advise that it should not be made a practice to have your teeth cleaned by a dental hygienist on a regular basis. Devices like oral irrigators and electric brushes can be used to achieve proper cleaning at home.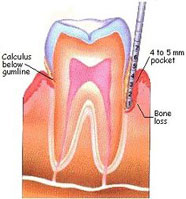 Periodontal flap surgery describes the state of-the-art techniques and most commonly used approach to the surgical treatment and plastic surgical repair of periodontal pockets.
"Pocketing" is the end result of inflammation and infection that causes the loss of tissue attachment to the teeth, one common consequence of periodontal (gum) disease.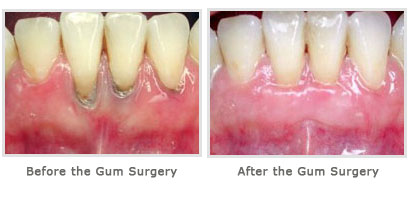 Treatment is based on an understanding of the disease process, the interaction between the bacterial biofilm or plaque collections at the gum line and the immune (resistance) system in a person susceptible to (likely to get) this disease. The long-term goal of periodontal surgery is to help increase the life expectancy of the teeth.
It is not a cure, but rather creates an environment that makes it easier to maintain health. Treatment is therefore aimed at controlling the basic cause — the bacterial biofilm — over a lifetime. Vigilance in home care and regular periodontal recall cleanings and monitoring are necessary to ensure success.
Bone, the basic building block that encases the teeth in health, can be managed either by mechanically reshaping it or by grafting techniques, encouraging regeneration where it has been lost.
In actuality, it is usually managed by a combination of both techniques:
Mechanical reshaping of the bone, known as osteoplasty ("osteo" – bone; "plasty" – reshaping)is an art form that involves re-sculpting bone that has become altered by the disease process to give it a more normal form. Thus, it allows the bone to heal normally.
Bone grafting, placing bone or bone substitutes into defects created by the disease process, acts like a scaffold upon which the body generates its own, new bone.
Kondapur Branch
Mon-Sat
09:00 AM - 09:00 PM
Sunday
10:00 AM - 02:00 PM
Secunderabad Branch
Mon-Sat
09:00 AM - 07:00 PM
Sunday
Only on Call
Ask the Experts