Introduction to Dental Implants
A dental implant (also known as an endosseous implant) is a surgical component that interfaces with the bone of the jaw or skull to support the dental prosthesis such as a crown, bridge, denture, facial prosthesis or to act as an orthodontic anchor.
Tooth Loss
Tooth loss is normal with baby teeth, where at some point in a child's life; a tooth becomes loose and then falls off, but is later replaced by an adult tooth. In the adult, losing a tooth is unfavourable as it causes displacement of adjacent teeth into the missing areas, tooth decay or periodontal disease.
Sequelae of Tooth Loss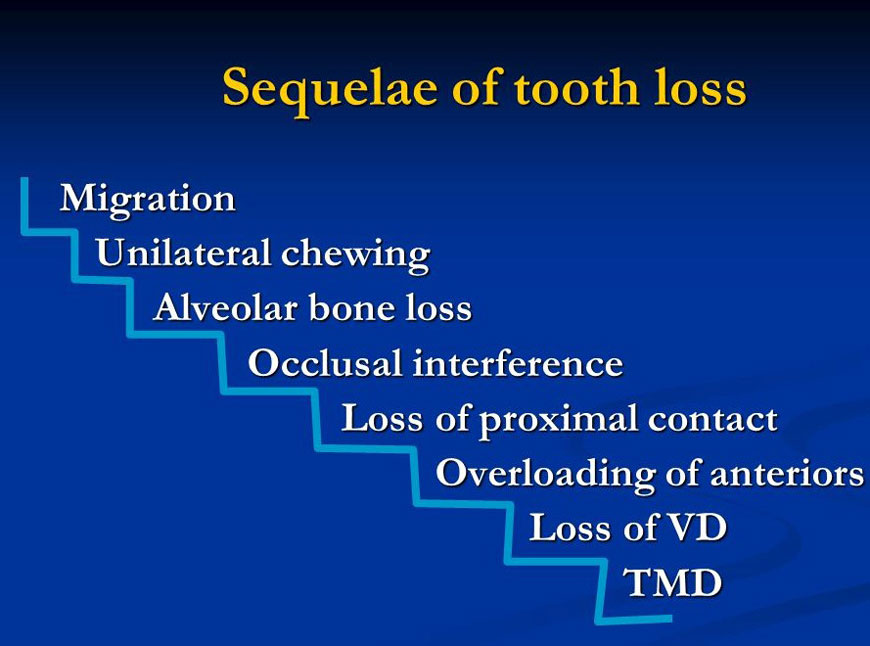 Importance of Dental Implants
Dental implants help maintain and strengthen bone structure. This means they do much more than replacing a missing tooth.
They also protect existing teeth by helping to preserve bone structure.
Bone loss in the jawbone is one significant problem that naturally occurs once a tooth is lost. This bone loss can compromise the integrity of neighbouring tooth roots and tooth stability, and it is also a large part of what causes the "sunken" look that is seen in people who have lost several or all of their teeth. This compromised appearance in the patient can be prevented by dental implant procedures at an early stage.
Implant Vs Bridge Vs Denture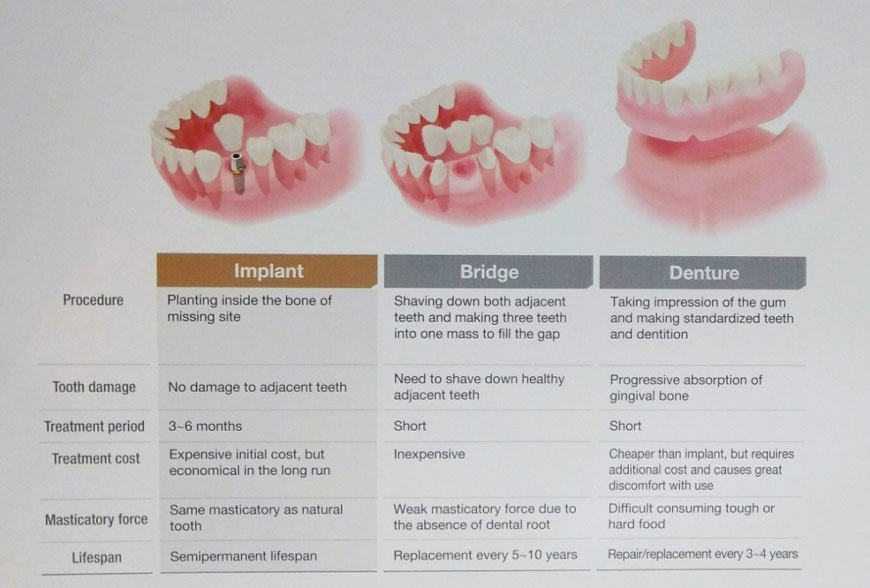 Type of Dental Implants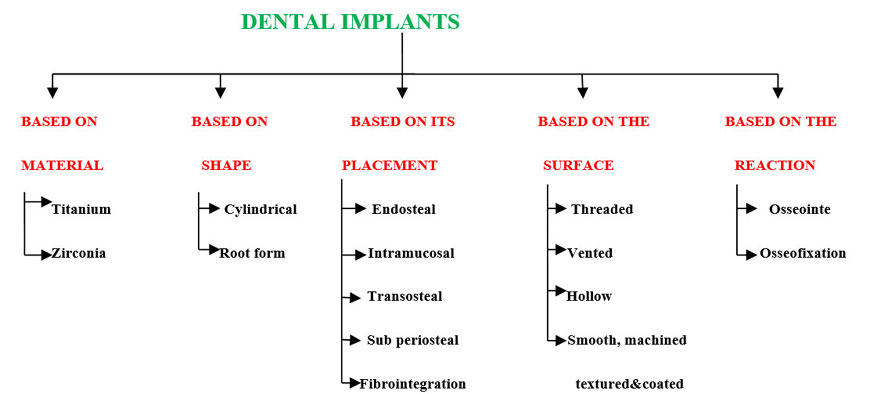 Who approved Dental Implants?
Nobel Biocare
Osstem
GenXt
Implant Direct
Single tooth missing
The single tooth implant restoration consists of three parts.
The implant post that replaces the tooth root.

The abutment that will support the crown.

The prosthetic crown that is either cemented onto the abutment or held in place with a screw.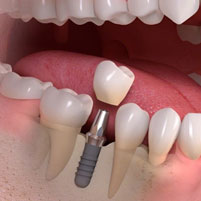 A single tooth implant with crown is one of the best permanent restorations that acts aesthetically and functionally like a natural tooth.
Multiple tooth missing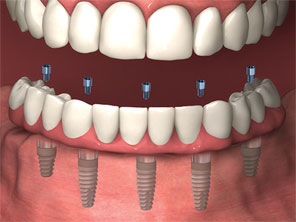 If multiple teeth are missing in different parts of the mouth, several single tooth implants are good replacement restorations.

If multiple teeth are missing within the same region, several missing teeth can sometimes be replaced with fewer implants because dental implants are stronger than the natural tooth roots. Gradually, these patients are placed with implant fixed bridges.
An implant fixed bridge is very much like a conventional bridge except the support is actually over implants rather than natural teeth. The implants themselves act as man-made roots. A great advantage is that it is self-supporting unlike a conventional tooth supported bridge that puts a heavier load on the remaining teeth.
Surgical Procedures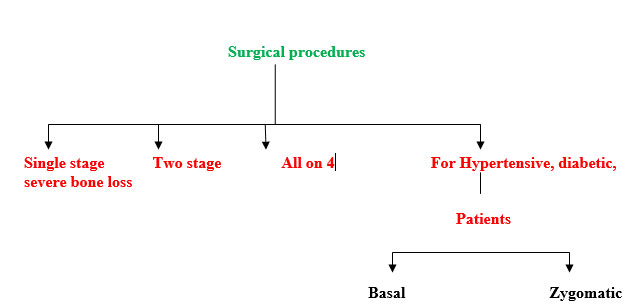 A. Single Stage Implant
Firstly, the dentist inserts a metal screw or implant into the jaw bone that is not visible.
An abutment is screwed onto the metal screw and is visible.
In the event that the work is being done in a visible area (like the smile line), the dentist will place a temporary covering on the abutment for aesthetic purposes.
The next step is the implant restoration. It all starts with the dentist introducing a local anaesthesia into the relevant area; later an incision is made on the gum's soft tissue creating a flap in order to expose the jaw bone.
The dentist then inserts the implant in the hole and screws it down using his dental motor or using a manual ratchet.
Once the implant is in place, the flap is then sutured up.
The whole process can last for an hour for a single implant and a few hours for a multiple implant case.
B. Two Stage Implant
In a 2 stage dental implant placement situation, the dental implant is placed and a cover screw is placed on top of it.
The gum tissue is placed over it and the implant is not seen.
After 3-6 months the implant is exposed and a healing cap is then placed on the implant and the tissue is allowed to heal around it.
Once the tissue is healed, an abutment is placed followed by the prosthetic crown that is cemented to the abutment.
C. All on Four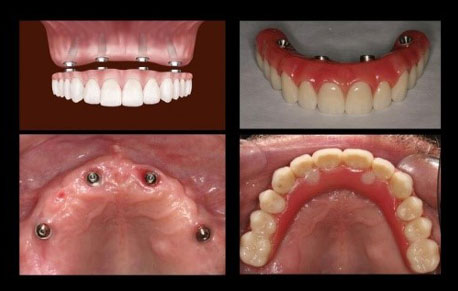 The All-on-4 treatment concept was developed to provide edentulous patients with an efficient and effective restoration using only four implants to support immediately loaded full-arch prosthesis.
The All-on-4 treatment concept offers clinicians and their patients various clear benefits:
Stability even in minimum bone volume

Good clinical results

Planning with Nobel Guide treatment concept

Prosthetic flexibility

Increased efficiency
D.1. BASAL Implants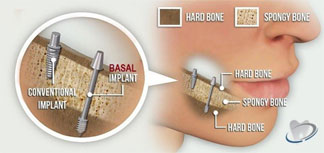 BOI implants are the most advanced system within the group of Basal Implants. These implants are well designed for immediate loading and therefore you get your permanent fixed teeth immediately in 3 days.
These implants have a high success rate in patients who are:
Smokers

Having reduced bone height

Having gum disease
The term "Basal Implant" refers to the implants based on the principles of utilizing basal bone areas which are free of infection and resorption. The "Basal Implant" employs the cortical bone areas as such the patient's chewing function becomes normal and even an old patient can chew hard food like nuts etc.
Basal screw implants and BOI implants are independent of presence of bone volume in vertical dimension. Sinus lifts have become avoidable because all patients have sufficient horizontal bone naturally, even if vertical bone is missing.
Structure/Design of Basal Implants
Lateral basal implants are inserted from the lateral aspect of the jaw bone. With a disk-diameter of 7mm or more, they are inserted through a T-shaped slot in the jaw bone.
Screwable basal implants are flapless implants and are placed through gum, without giving a single cut.
D.2. Zygomatic Implants

Zygomatic implants are used when there is insufficient bone to hold a normal dental implant. The difference between a Zygomatic Implant and a normal dental implant is that the former is longer and is placed diagonally into the cheek bone (zygoma), to make use of it, usually after extracting a tooth, the bone that holds the tooth starts to shrink. In some cases the shrinkage is severe resulting in insufficient bone to hold a dental implant. This usually means a sinus lift and bone graft is required to build up bone structure and achieve better stability.
In certain cases we can place longer Zygomatic implants into the cheek bone, giving better stability and strength to hold an implant retained bridge, and thus sometime negotiating the need for a bone graft. Zygomatic implants are placed carefully avoiding the sinuses, also eliminating the need for sinus lifts. Dental implants are a great solution to replace missing teeth, but can involve a 6 month period of waiting for the implant to fuse with bone before placing teeth onto the implants. With Zygomatic implants, you can place a bridge onto the implants straight away; therefore you will walk out of the surgery with a brand new smile.
KIMS Dental Care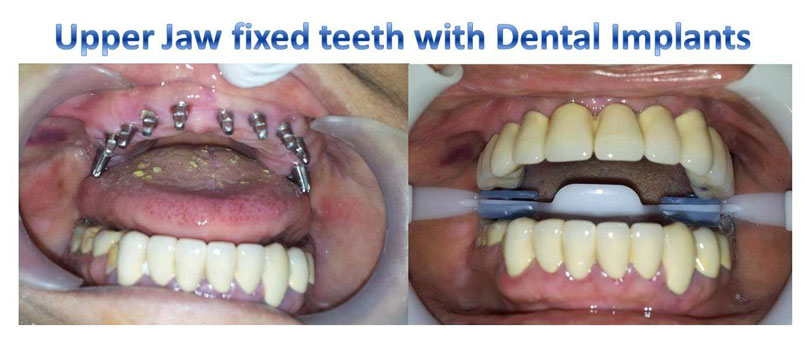 KIMS Dental Care specializes in replacing the missing tooth with the well-known Titanium Dental Implants. The procedure is highly demanded and cost-effective. All types of Dental Implants and related procedures here will be available at Low Cost and relatively cheap prices.
When all teeth are missing or in a condition that all teeth need to be replaced, there are basically two types of full arch implant reconstructions options:
Dental implant procedure is the term used to describe the entire process you go through from the time you walk into the dentist's clinic for the first time, when getting your dental implants, till the last time you walk out of there with your new beautiful smile. The dental implant procedure involves two main stages separated by a minimum of up to 3-9 months of healing time.
Implant restoration
It takes time for the implant to take hold. This could range from 3-9 months, depending on the individual's rate of healing. Once the implant is firmly set inside the jaw bone, then the permanent crown is attached to the abutment. The crown is built of material that will match the surrounding teeth.
Dental implants: Post Operative Instructions
An implant will usually take a period of one to four months to heal. If sutures were placed around the implant, they will be removed and checked by the dentist within a period of 7-10 days.
Pain medication should be taken according to the given directions.
Apply an ice pack for a period of 20 minutes on and 20 minutes off during the day to minimize the swelling and bruising expected after the surgery.
Soft foods must be taken.
Before and After Images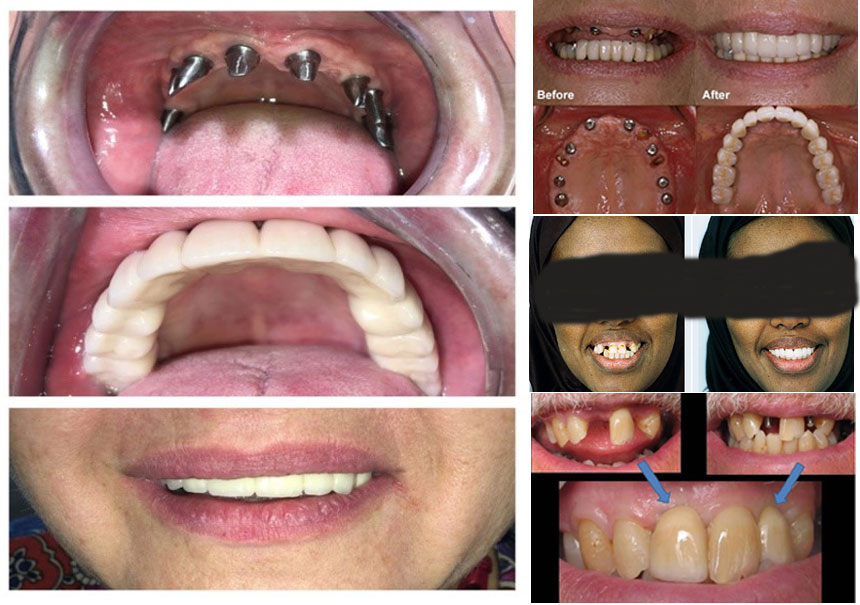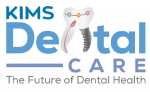 Need More Info about DENTAL IMPLANTS
Teeth Missing?
CALL US FOR A QUICK APPOINTMENT
+91-9963100600, +91-9640100600
Kondapur Branch
Mon-Sat
09:00 AM - 09:00 PM
Sunday
10:00 AM - 02:00 PM
Secunderabad Branch
Mon-Sat
09:00 AM - 07:00 PM
Sunday
Only on Call
Ask the Experts